RITTER R131 - TRIPLE SPINDLE HORIZONTAL BORER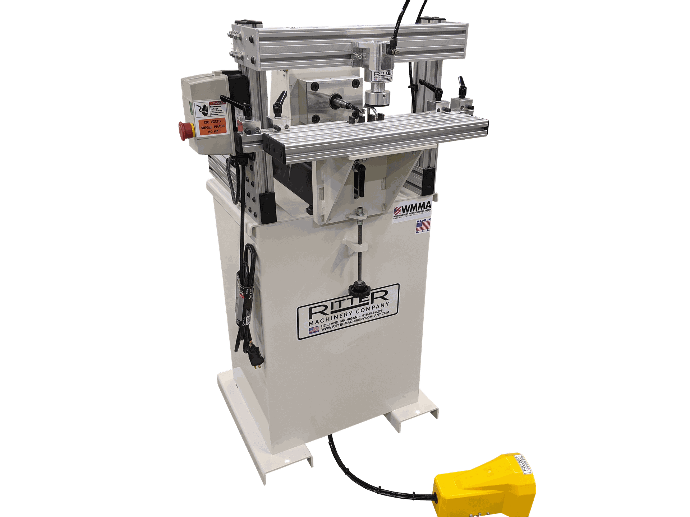 Description:
Designed for a dedicated and accurate boring center with single, double or triple spindle boring capability. Stile and rail boring set-up features help eliminate costly mistakes, rejected parts and increase production efficiency. The workpiece is held firmly against the table by a pneumatic clamp, and there is full adjustability of the index stops, bed height, and depth of cut.

Standard Features:
Triple Spindle Gear Driven Drill Head
1" Spindle Spacing
7/16-14 Female Threaded Collets (2) L/H (1) R/H
0.75 HP Spindle Drive Motor, TEFC
0-2" Adjustable Boring Depth
(4) Material Positioning Stops
2" Bore Clamping Cylinder

Foot Actuated Boring Cycle
3450 RPM Spindle Speed
6" X 20" Table Area
Tooling Not Included
Technical Data and Specifications:

Electrical: 110/120V, 60Hz, 20A
Air: 2 CFM at 80 – 100 PSI
Work Height: 40"
Footprint: 24" x 24"
Shipping Weight: 381 LBS
Shipping Dimensions: 38" X 38" X 55"