RITTER R76 -76 SPINDLE CNC SINGLE ROW DRILL SYSTEM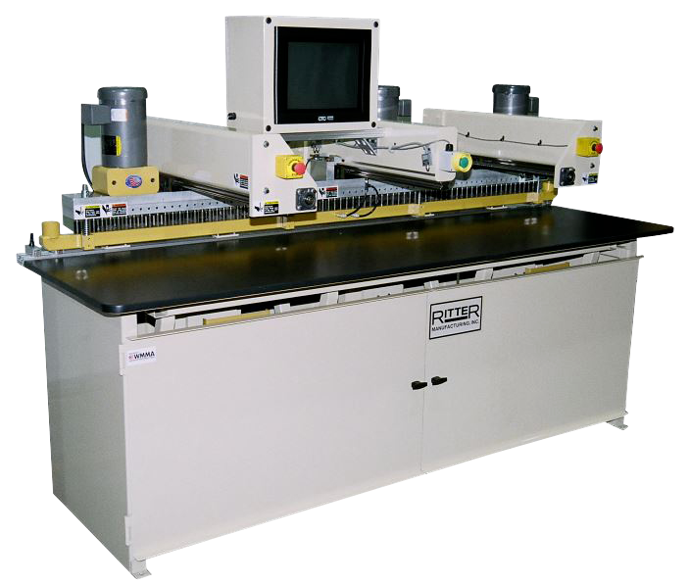 Description:
The Ritter R76 a closet system drill part of the panel master series. The R76 is a CNC single row system drill with programmable drill row location and boring depth. The R76 is used for drilling full length closet panels in a single process. The drill row ball screws and linear rails provide for precision drill row location. The servo driven ball screw table feed control allows for precision drill depth control and through feed boring.

The multiple spindles and CNC control allow you to drill precise and consistent holes in a single process, significantly increasing your productivity.
Standard Features:
76-Spindle Gear Driven Drill Head
(39) Right Hand, (36) Left Hand

Touch Screen HMI
Twin Ball Screw Drill Row Positioning
Triple Precision Table Guide Rails

Twin Ball Screw Boring Stroke Control

Programmable Boring Depth, Servo Driven
108" Back Fence with (4) Adjustable Material Stops

Right and Left Hand Work Stations
(4) Pneumatic Material Clamps

(4) Spring Operated Material Clamps

Center Beam Mounted Cycle Start Button
(2) Emergency Stop Buttons

Tooling Not Included
Technical Data and Specifications:

Drive Motors: 3 HP
Spindle Centers: 32mm
Collet Size: 10mm
Throat Capacity: 24"
First to Last Spindle: 2,400mm (94.488")
Maximum Material Thickness: 1.25"

Electrical: 230V, 3Ø, 60Hz, 60A or 460V, 3Ø, 60Hz, 30A
Air: 2 CFM at 80 – 100 PSI
Work height: 36″
Footprint: 56″ x 110″
Table Area: 30″ x 108″
Shipping Weight: 4,432 LBS
Shipping Dimensions: 120″ L x 63″ W x 83" H

R76 Pecking Cycle
Operator is able to set the step increment for the cycle.