RITTER R220T - Double Spindle Pocket Hole Drill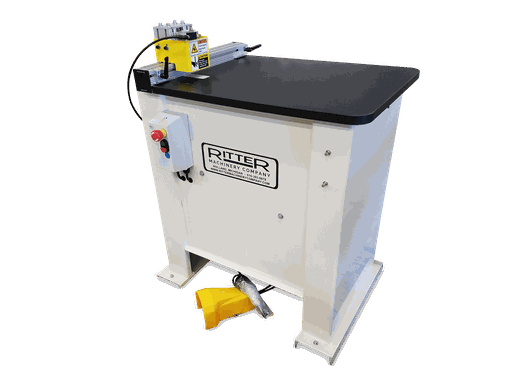 Description:
Ritter Machinery offers the R220T Double Spindle Pocket Hole Drill, a cutting-edge machine designed specifically for pocket joinery face frame construction. Carrying over many advanced features from the R200T, such as a 1.5 HP spindle drive motor, a foot-activated boring cycle, and a spindle speed of 6,100 RPM, the R220T adds a 14-degree double spindle. This model significantly enhances productivity by eliminating dowel boring, dowel and glue insertion, clamping time, and joint misalignment, thus offering up to a 50% reduction in frame construction time. The R220T's standout feature is its pocket borer design, which eliminates the need for glue at the joint. The Ritter Machinery R220T's flexibility allows for frame disassembly and joint repositioning without the loss of material. It also provides customization options, such as the R220T3 - 1.5 HP 3-Phase 230/460 Volt and the R220T.20 - 20mm drill spindle spacing. Its manageable dimensions and weight make it a versatile choice for various woodworking needs. The R220T is the only double pocket hole machine on the market.
Standard Features:
1.5 HP Spindle Drive Motor, TEFC
Foot Actuated Boring Cycle
14 Degree Double Spindle
6,100 RPM Spindle Speed
24" x 30" Table Area
Adjustable Fence with (2) Stops
Tooling Included
Interchangeable Head with R200T

Technical Data and Specifications:

Electrical: 110/120V, 60Hz, 20A
Air: 2 CFM at 80 – 100 PSI
Work Height: 38.25"
Footprint: 34.5" x 25.25"

Additional options:
R220T3 – 1.5 HP 3-Phase 230/460 Volt
R220T.20 - 20mm drill spindle spacing
Shipping Weight: 561 LBS
Shipping Dimensions: 33" X 43" X 51"