RITTER R853 - Horizontal/Vertical Drawer Drill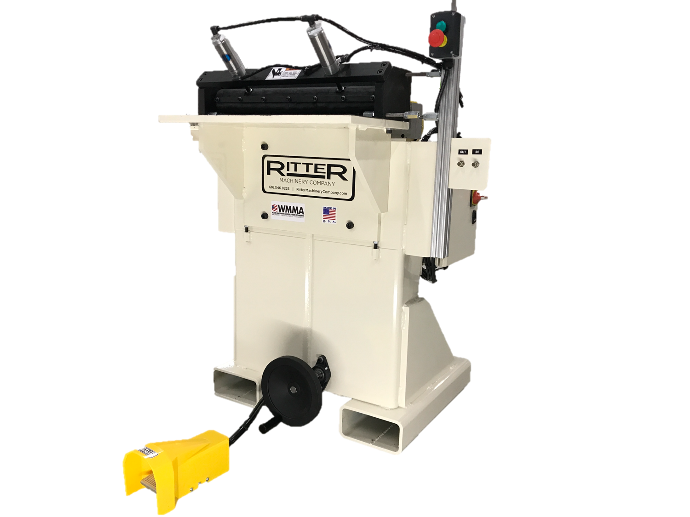 Description:
Designed for a dedicated and accurate boring center with single or multiple part capability. Operation sequence features help eliminate costly mistakes, rejected parts and increases production efficiency. Operator safety is greatly enhanced.

Standard Features
13-Spindle Gear Driven Drill Head
(7) Right Hand, (6) Left Hand
Foot Actuated Boring Cycle
Backfence with Dust Clearance
Machined Steel Work Table
Horizontal / Vertical Boring Fence System

Horizontal / Vertical Material Clamp System
Adjustable Boring Depth Turret
(2) Dust Collection Ports
Emergency Stop Button

Tooling Not Included
Technical Data and Specifications

Drive Motor: 2 HP
Spindle Centers: 32mm
Collet Size: 10mm
Maximum Material Thickness: 0.75"
Maximum Drawer Box Height: 14"
Boring Depth Adjustment: 0-2"
Electrical: 230V, 3Ø, 60Hz, 5A or 460V, 3Ø, 60Hz, 2.5A
Air: 5 CFM at 80 – 100 PSI
Work height: 34″
Footprint: 40″ x 45″
Table Area: 12" x 24"
Shipping Weight: 1,005 LBS
Shipping Dimensions: 55″ L x 46″ W x 57" H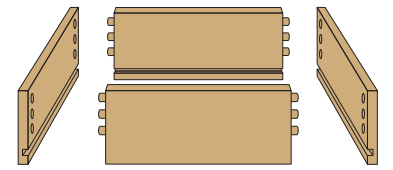 Benefits
• Backfence allows for positioning of both vertical and horizontal boring without machine set-up.
• Boring depth is controlled by the quick-change turret for different boring depth as required.
• Chip clearance is provided for by the backfence design to eliminate dust and chip build-up.
• Boring bits are guarded for operator safety.
• Unlimited drawer box width and depth.
• Maximum drawer box height is 16".
• Capacity for 5mm to 8mm dowels.
• Upper cabinet cases to 16" deep can also be accommodated.